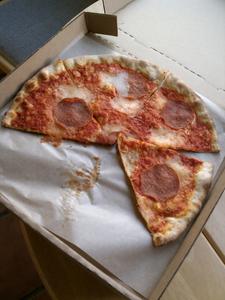 Perambulating Potrero to procure Piccino's pizza
Prob­a­bly the piz­za off­sets any ben­e­fit from the two miles of walk­ing, but who cares?
I used to get cof­fee at the Pic­ci­no Café back when I lived in Dog­patch. They make a mean lat­té. But I nev­er tried eat­ing there. Since those days they have expand­ed to a new loca­tion one block away from the old loca­tion with pret­ty much the same menu but with a full din­ing room and the cof­fee bar around the corner.
Their piz­zas are super-thin crust and tasty. Def­i­nite­ly a Cal­i­for­nia gourmet piz­za kind of things. Their menu is full of piz­zas with fan­cy for­eign names: the «Bian­ca», the «Etr­usca» and so on. Not the kind of piz­za I grew up wih and I could do with­out some of the pre­tense, but you can't blame a restau­rant for try­ing to cul­ti­vate some ambiance. Cer­tain­ly worth check­ing out.
I'm learn­ing to hate my Saucony Grid Omni 5s. They were sup­posed to be the replace­ment to my Saucony Grid Omni 3s a few years ago, and both sets of shoes are walk­ing shoes only now since I have my Kin­varas. The heel cup on the Omni 5s have been demol­ished and I need a shoe­horn to get them on my feet. It's a very frus­trat­ing expe­ri­ence while the old­er Omnis have held up nice­ly over more years and cer­tain­ly more miles.
Walk­ing was good today. My calves are very tight after yes­ter­day's run. It's nice to get back to log­ging miles.