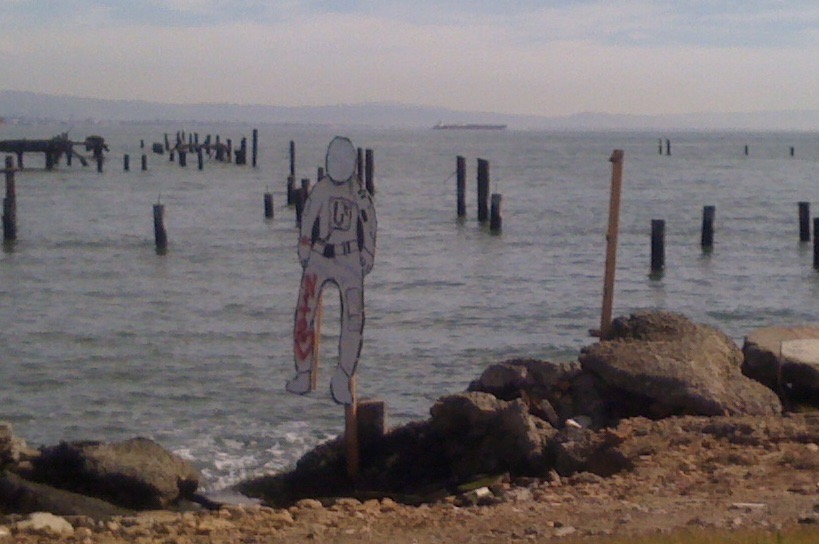 Well, real­ly space­men by the bayshore, but it sounds bet­ter with allit­er­a­tion. And I real­ly did­n't want to lead with «Astro­nauts by the estu­ary» for lots of rea­sons, not least of which is that it isn't actu­al­ly alliteration.
Street art is (some­times) fas­ci­nat­ing here in San Fran­cis­co. From stick­er­ers to mural­ists to… flat met­al cutouts of astro­nauts. On my run today I went past these and could­n't quite believe my eyes. It was­n't just one of these—there were four or five that I saw. Two were on land like the one pic­tured here and the oth­ers were out in the bay on the old rem­nants of long-for­got­ten piers. Every now and then this town reminds me why I live here.
I got a late start, but I was back home by noon so I can call it a morn­ing run. I've got a lot more to do today so I hope that was my good foun­da­tion for the rest of the day. I'm pret­ty tired but hope­ful­ly I'll be refreshed by the time I get showered.
The run start­ed faster than I thought—10 or 11 min­utes per mile pace—but by the end of the first mile I had slowed to my reg­u­lar (hate to call it that) 13 minute mile pace. At 1.5 miles I took a walk break. No shame in that exact­ly, but if I want to do bet­ter I might have to go run­ning more than once a week.
Oth­er notable things from the run? Not much. There con­tin­ues to be a lot of con­struc­tion down the Third Street cor­ri­dor. I caught a pic­ture of these cranes think­ing they'd be the high­light of the run until I saw the flat steel space­men. Well, you get to see the cranes anyway.