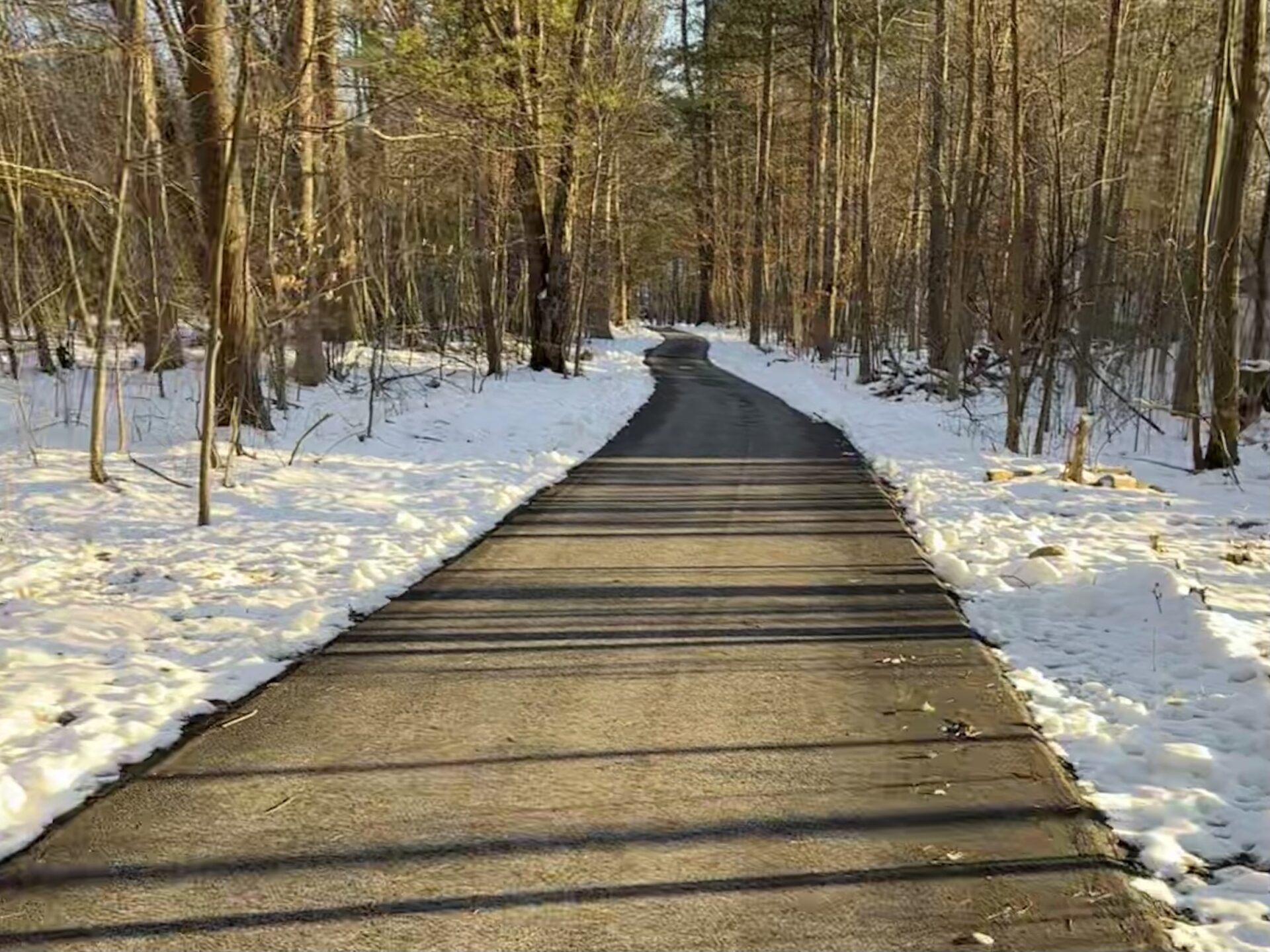 The guy who came in from the cold
For the past few months I've been get­ting my exer­cise indoors. While I have got­ten on to a tread­mill a time or two, I'm sor­ry to report that I haven't been run­ning much at all. Most of my run­ning has been done in mild weath­er and frankly I'm a lit­tle bit afraid of run­ning in cold weath­er. But I see peo­ple out there run­ning every day in 20°F to 30°F (-7°C to ‑1°C for my friends out­side the US) weath­er. So I ought to be able to do it too.
I've run out­doors three times in the last three months. Two were orga­nized races: the Troy Turkey Trot 10K on Thanks­giv­ing morn­ing and the Sarato­ga First Day 5K on Jan­u­ary 1st. The Turkey Trot was 32°F (0°C) and First Day was maybe 35°F (2°C). I bought long run­ning pants in antic­i­pa­tion of my first less-than-toasty run at the Turkey Trot, and wore a long-sleeved hood­ie. One nice bit of schwag from the Turkey Trot was a pair of gloves. I wore those as well.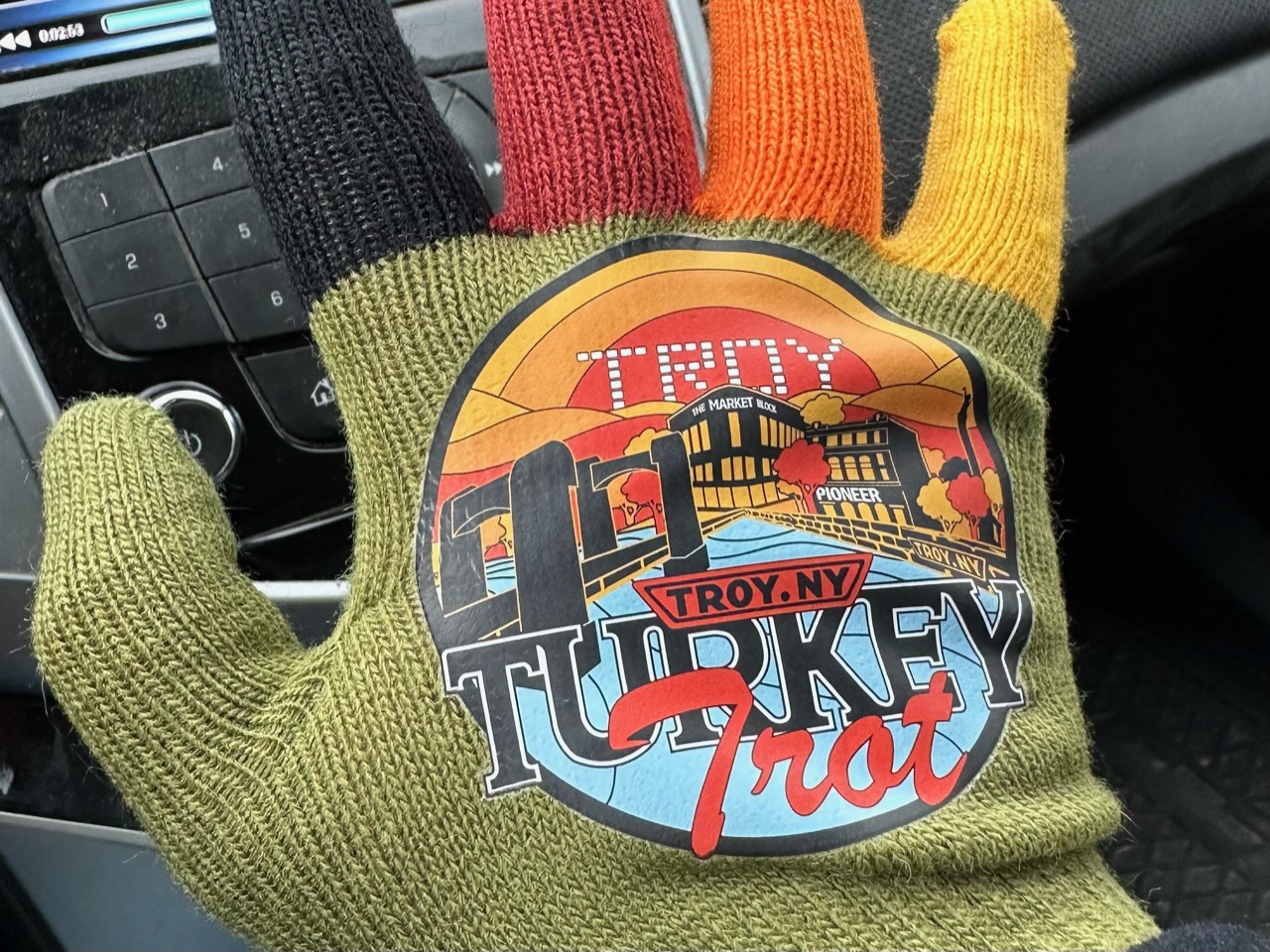 The Turkey Trot was fun and that was encour­ag­ing. The Sarato­ga First Day 5K was a lit­tle warmer and quite sun­ny so I didn't even wear the long pants or the gloves, though I did wear long sleeves. That might have been too much, as my face was clear­ly quite flushed at the end of the race. I needn't have wor­ried about being too cold.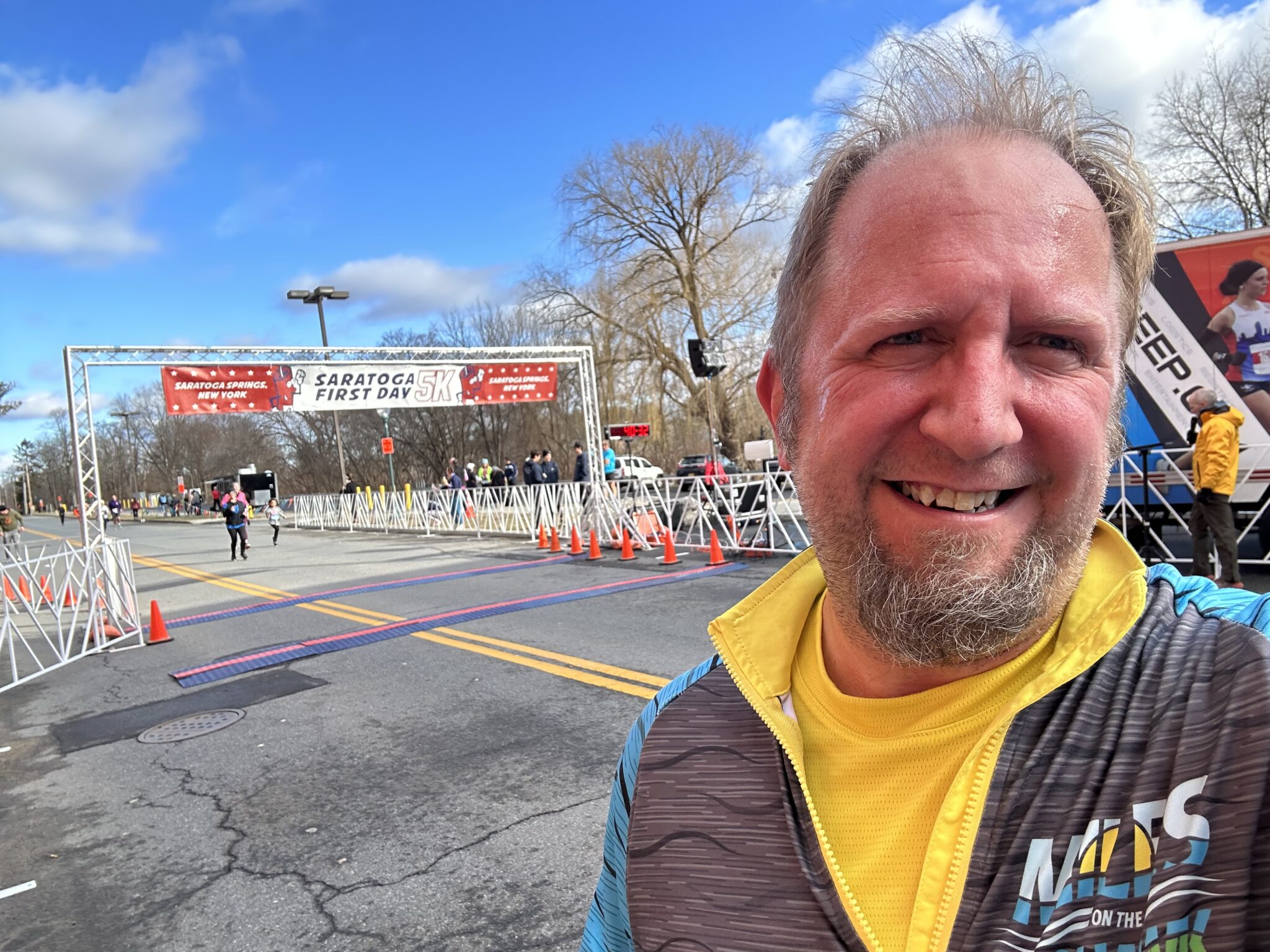 Even after these two suc­cess­ful ven­tures into cold­er tem­per­a­ture run­ning, I've been hes­i­tant to get out there in the cold. But I've reg­is­tered for races ear­ly this year, includ­ing the Helder­burg to Hud­son Half Marathon in April and the Elec­tric City 10K in March. No amount of strength train­ing with weights is going to get me into form for run­ning, and there's a non-zero chance that one or both of those races could have cold weather.
Yes­ter­day I decid­ed to get out there and go for a run in 26°F (-3°C) weath­er in the after­noon when the sun was still out but not very high in the sky. It was a dif­fi­cult run. Almost imme­di­ate­ly I felt my lungs and wind­pipe start to hurt from the cold air. There was a lit­tle bit of wind and that didn't help any. I kept it slow (and boy was I ever slow) but it didn't seem to help. I inhaled through my nose as much as pos­si­ble to keep my wind­pipe from freez­ing, but I can't take air in as quick­ly through my nose so I kept revert­ing to inhal­ing through my mouth to keep from feel­ing like I was get­ting starved for oxygen.
At about two-thirds of a mile in, I decid­ed that two miles would be plen­ty and decid­ed on a path that would loop me back toward home. It was a real­ly uncom­fort­able push but at a lit­tle over a mile and a half I had a deci­sion whether to turn left and go back home. I decid­ed I could do a lit­tle bit more and went straight, on a path where there would be plen­ty of oppor­tu­ni­ties to press for­ward or turn back.
In the end I did a nice tour of the neigh­bor­hood, at almost four miles (my run­ning track­er app says 3.87 miles but also dis­plays a warn­ing that GPS dis­tance is 4.4 miles.) It was a very slow run but I stayed up on my toes the whole way and didn't take a walk break except once to slow down so I could get my phone out of my pock­et to take pic­tures for this post.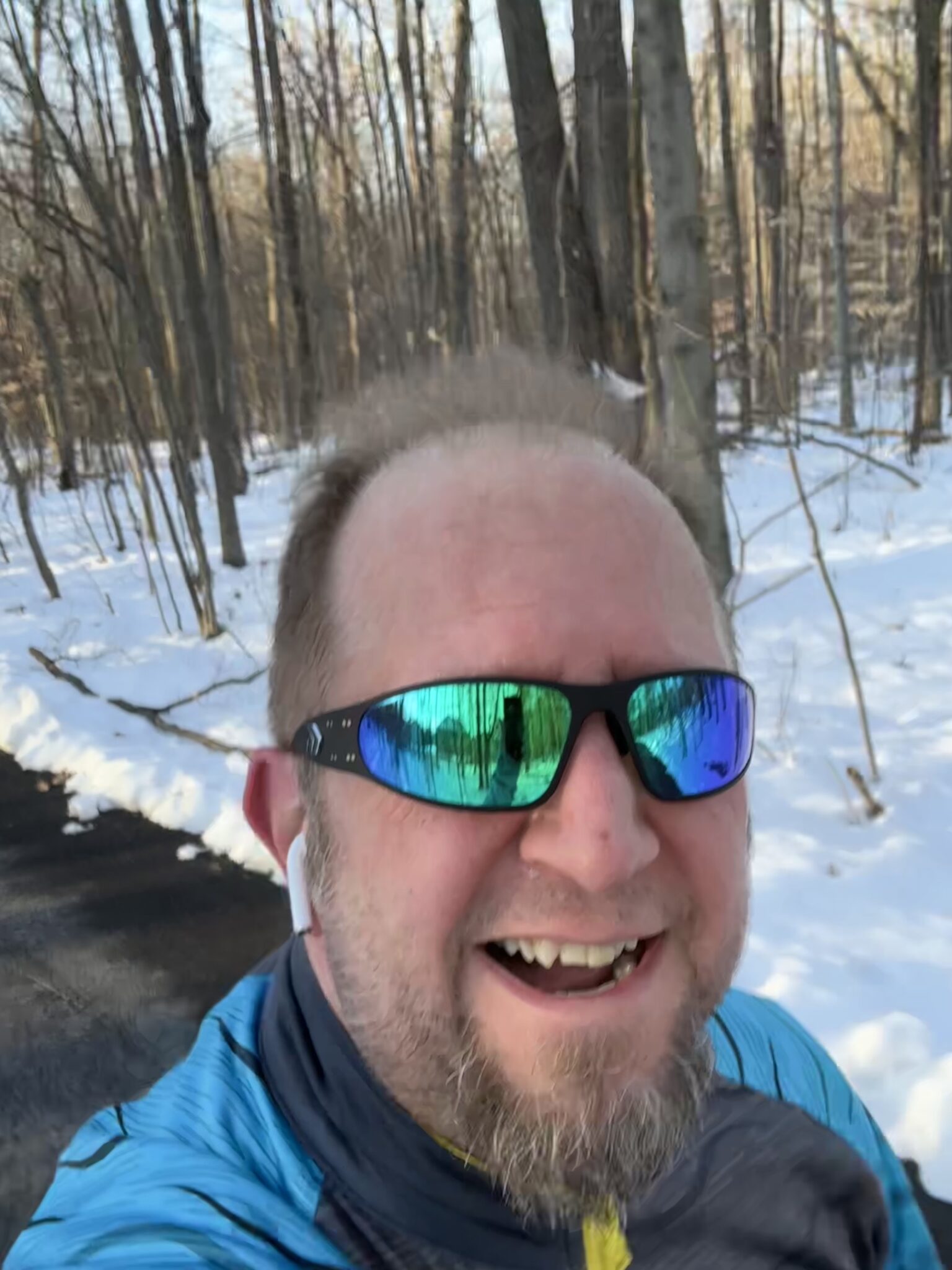 When I got back home I felt like I'd had a ter­ri­ble asth­ma attack, and went right for my inhaler. Even back in my twen­ties cold air would give me some issues with breath­ing, so I prob­a­bly should remem­ber to use my inhaler before a run when the weath­er is less than toasty.
Unfor­tu­nate­ly, the dis­com­fort in my lungs has per­sist­ed all through the day and even the next day I'm a bit wheezy. It's gone on long enough that I hope it is only the after­af­fects of breath­ing too much cold air. I sure don't want to get sick.
This should be encour­ag­ing. While the run was uncom­fort­able, I got through it and didn't have to stop. It got eas­i­er as I went along. I was pret­ty sweaty when I got home so the light pants and long sleeves plus gloves seem to be most­ly ade­quate for the mid-twen­ties. I might want to get a hat for cold days but it's not real­ly my head I'm con­cerned about and I wouldn't want to be over­heat­ed. Maybe just some­thing to cov­er my ears.
So it is encour­ag­ing. Most­ly. It's great to know that what seems impos­si­ble at the start often turns into some­thing that can be over­come. At the same time, it was a pret­ty rough start and I'm still feel­ing the after­math. Maybe this is some­thing I can get bet­ter at, both in the sense that I'll get used to it and in the sense that there are prob­a­bly things I can learn to min­i­mize the dif­fi­cul­ty in future cold-weath­er runs.
I have to remem­ber this as a vic­to­ry, and just remem­ber how much I liked it. Even if I didn't.