Steven M Scotten Tuesday, 21 November 1995 - 9:00am
On Sunday, November 19th 1995 at a few minutes before 4pm I was driving my girlfriend to the train station when a 16 year old driver failed to stop for his red light. There was no time whatsoever to react, and his van collided with my SC2 at about 35mph. I must have heard a noise or caught something in my peripheral vision, because I turned my head in time to see the grill of the van crushing the entire driver's side of my 1995 SC2. This is without question the most terrifying experience I have had to date.1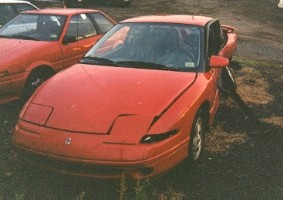 The Saturn spun 360 degrees and ended up on the sidewalk (I am humbly thankful that there was no one on the corner of that intersection waiting to cross the street) between a tree and a house. The car knocked down a good-size section of chain-link fence in the process. Both myself and my passenger went to the hospital and walked out within a few hours. I had some torn ligaments in my neck and strained muscles in my back; Brenda had more serious back injuries and was very stiff everywhere but these injuries seem at this point to be minor in comparison to what they could have been.
The driver's side door was the only thing that came between 3000+ lbs of GMC van and me. If I had been driving my last car (an '86 Subaru) instead of the Saturn, I am sure that I would now be dead. As it is, the entire rear and driver's side windows were shattered, the driver's side window right into my face, and I suffered minimal abrasions from the safety glass.
The scene after the cops showed up was like a Saturn ad, with more than one police officer expressing disbelief that the two of us were able to speak considering the amount of damage the car took. One even tried to move me away from the scene as part of his crowd control duties.
I may not have my pretty red SC2 anymore, but I am sure that my replacement will be another Saturn. Brenda does think it would be spooky to get another red one though. My thoughts are running toward the dark green. We'll see.
More pictures of my dear, departed SC2: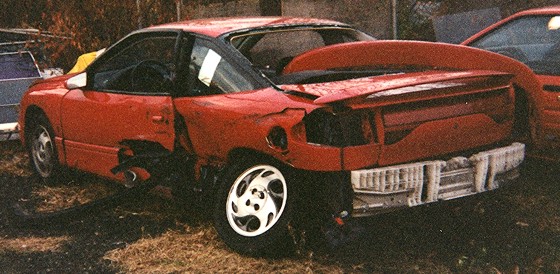 The above picture shows very clearly the damage and the source of the impact. I remember looking up to see the grill and one headlight. Apparantly, the van's driver's side headlight would have been adjacent to my head at time of impact. If you look closely, you should be able to make out a dark shape protruding from the driver's side door (I know it's a bit difficult considering how dark the photo is to begin with.) This is a piece of molding from the bumper of the van that hit me! I guess that no one thought it necessary to put all the parts together with the vehicle they came from.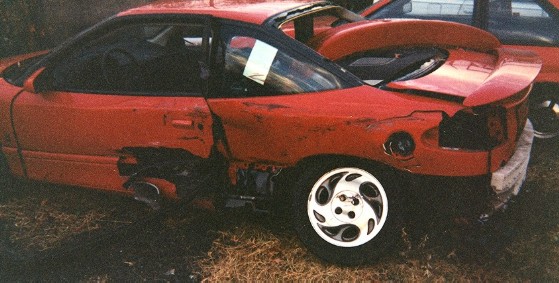 Below is the accident diagram from the police report taken by the investigating officer on the scene.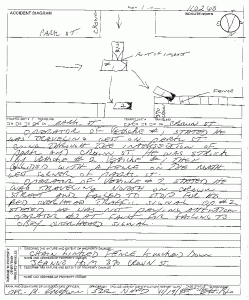 ---
Overly dramatic much? —Steve, 20 years later ↩︎