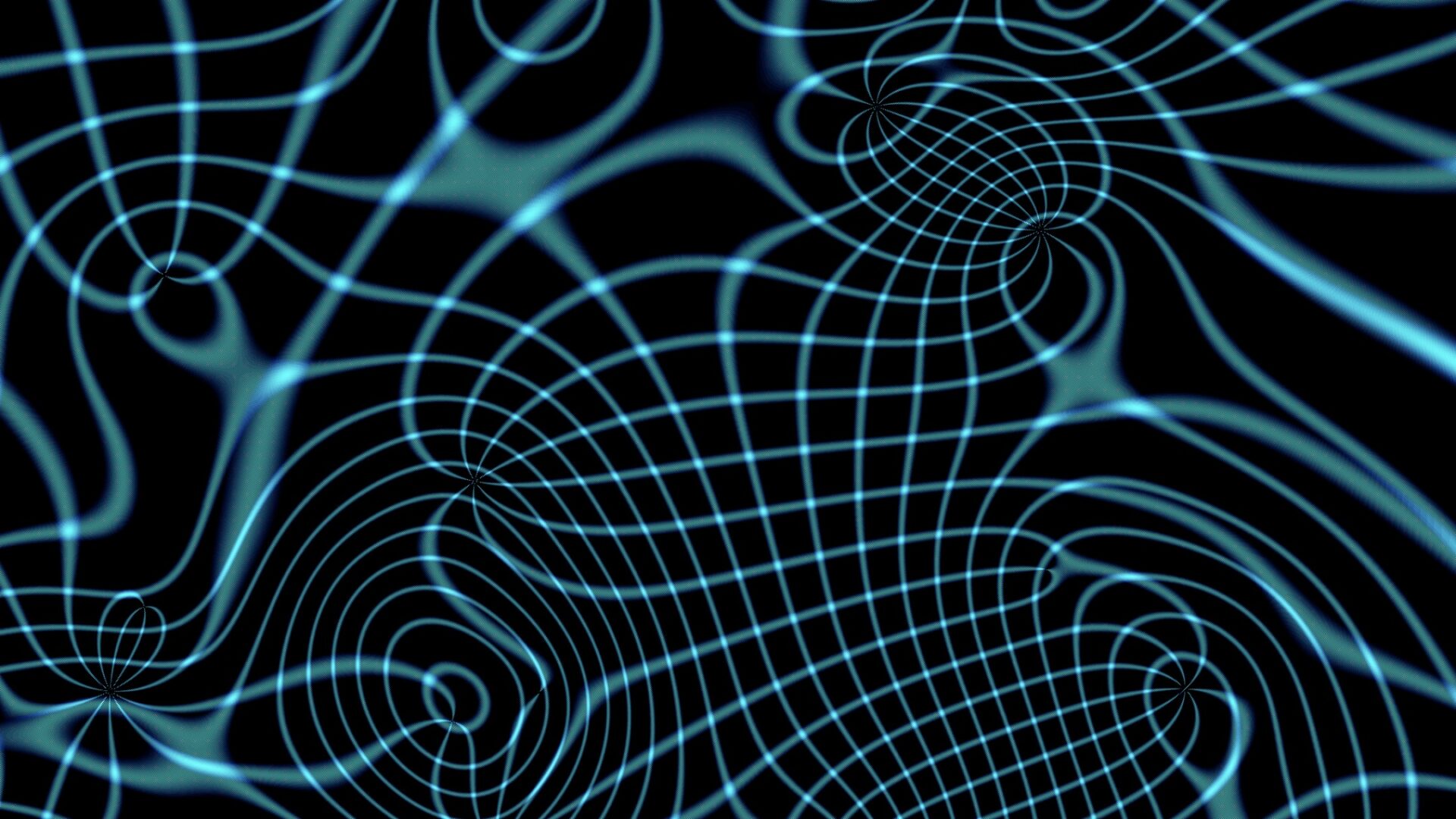 Steve's Red Saturn
1995

 – 

1995
On Sun­day, Novem­ber 19th 1995 at a few min­utes before 4pm I was dri­ving my girl­friend to the train sta­tion when a 16 year old dri­ver failed to stop for his red light. There was no time what­so­ev­er to react, and his van col­lid­ed with my SC2 at about 35mph. I must have heard a noise or caught some­thing in my periph­er­al vision, because I turned my head in time to see the grill of the van crush­ing the entire dri­ver's side of my 1995 SC2. This is with­out ques­tion the most ter­ri­fy­ing expe­ri­ence I have had to date.1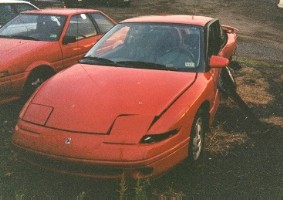 The Sat­urn spun 360 degrees and end­ed up on the side­walk (I am humbly thank­ful that there was no one on the cor­ner of that inter­sec­tion wait­ing to cross the street) between a tree and a house. The car knocked down a good-size sec­tion of chain-link fence in the process. Both myself and my pas­sen­ger went to the hos­pi­tal and walked out with­in a few hours. I had some torn lig­a­ments in my neck and strained mus­cles in my back; Bren­da had more seri­ous back injuries and was very stiff every­where but these injuries seem at this point to be minor in com­par­i­son to what they could have been.
The dri­ver's side door was the only thing that came between 3000+ lbs of GMC van and me. If I had been dri­ving my last car (an '86 Sub­aru) instead of the Sat­urn, I am sure that I would now be dead. As it is, the entire rear and dri­ver's side win­dows were shat­tered, the dri­ver's side win­dow right into my face, and I suf­fered min­i­mal abra­sions from the safe­ty glass.
The scene after the cops showed up was like a Sat­urn ad, with more than one police offi­cer express­ing dis­be­lief that the two of us were able to speak con­sid­er­ing the amount of dam­age the car took. One even tried to move me away from the scene as part of his crowd con­trol duties.
I may not have my pret­ty red SC2 any­more, but I am sure that my replace­ment will be anoth­er Sat­urn. Bren­da does think it would be spooky to get anoth­er red one though. My thoughts are run­ning toward the dark green. We'll see.
More pic­tures of my dear, depart­ed SC2: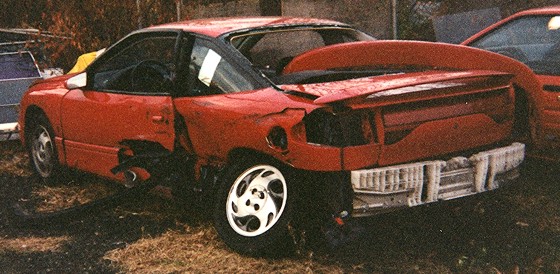 The above pic­ture shows very clear­ly the dam­age and the source of the impact. I remem­ber look­ing up to see the grill and one head­light. Appa­rant­ly, the van's dri­ver's side head­light would have been adja­cent to my head at time of impact. If you look close­ly, you should be able to make out a dark shape pro­trud­ing from the dri­ver's side door (I know it's a bit dif­fi­cult con­sid­er­ing how dark the pho­to is to begin with.) This is a piece of mold­ing from the bumper of the van that hit me! I guess that no one thought it nec­es­sary to put all the parts togeth­er with the vehi­cle they came from.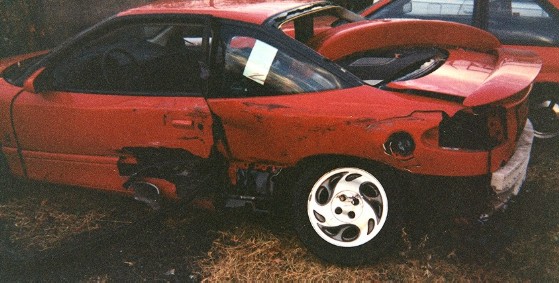 Below is the acci­dent dia­gram from the police report tak­en by the inves­ti­gat­ing offi­cer on the scene.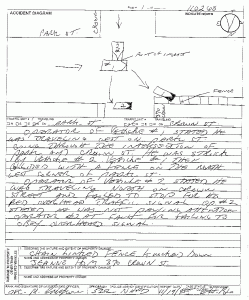 ---
Over­ly dra­mat­ic much? —Steve,

20

years lat­er ↩