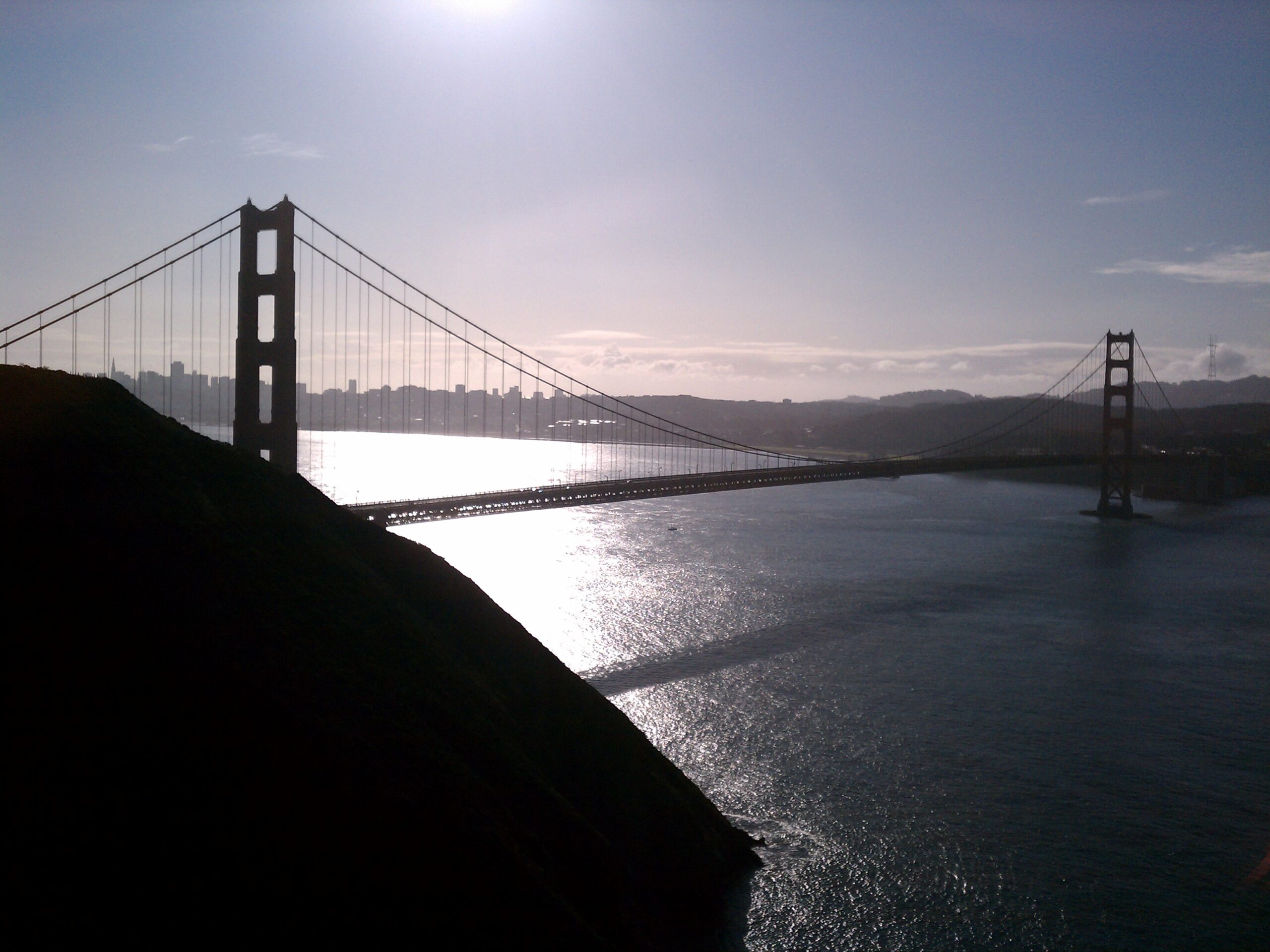 …because it would be hard
Weath­er report said it was going to rain. I talked to anoth­er run­ner before the race who said he hoped it would­n't rain. The skies were total­ly clear, but I don't think rain on a race is a bad thing. It cools us off with­out hav­ing to sweat so much. Even with­out the rain, the air was pret­ty cool — prob­a­bly about 55°F. A lit­tle cool to be stand­ing around in shorts and a T‑shirt, but just fine for run­ning. The skies were beau­ti­ful, it was a per­fect day for the US Half Marathon.
Run­ning 13.1 miles might not have been the safest or san­est thing to do for an out-of-shape 41-year old. Some might even say the last sen­tence shows my tal­ent for under­state­ment. I reg­is­tered for the race almost a year ago and found near­ly every excuse not to train for it. That had to end. Run­ning the race today was both a line in the sand for my own run­ning prac­tice and an expir­i­ment to test what the human body and spir­it is capa­ble of with lit­tle prepa­ra­tion. To para­phrase JFK, I ran not because it was easy, but because it would be hard, because that goal would serve to orga­nize and mea­sure the best of my ener­gies and skills, because that chal­lenge is one that I was will­ing to accept, one I was unwill­ing to postpone.
I ought to dis­claim this with a warn­ing not to try this your­self. If you're out of shape, take stren­u­ous activ­i­ty very seri­ous­ly and don't just dive in to a chal­lenge that could get you injured or worse. I'm out of shape today, but I am a mod­er­ate­ly expe­ri­enced run­ner so I knew most of what I was get­ting myself into. Though it real­ly does­n't count as train­ing, I did test myself with short­er dis­tances start­ing two weeks before the race. After I com­plet­ed 9.6 miles last Sat­ur­day I had a rea­son­able idea of what I could expect in this half marathon.
I knew it would­n't be quick. Try­ing to run 13.1 miles fast would real­ly be an invi­ta­tion to injure myself and like­ly not fin­ish at all. I had to pace myself and go very slow­ly. My only goal today was to fin­ish before the course closed three hours after the start. I did­n't quite hit my mark, com­ing in two min­utes over three hours, but they did­n't close the course or scoop me up in the sag wag­on. In fact, the online results list­ing record­ed two hun­dred fin­ish­ers behind me. The US Half web­site's FAQ says that par­tic­i­pants unable to fin­ish in three hours will be trans­port­ed to the fin­ish by race offi­cials. Thank­ful­ly, that did not happen.
I arrived at the start line just in time for the start­ing gun. I fol­lowed the fence back to where I could join the crowd and start­ed a slow trot. At the start­ing gate of a race with 3500 par­tic­i­pants, main­tain­ing an easy pace isn't a prob­lem — it's the only option.
Around two and a half miles in, right on sched­ule, I start­ed to get that feel­ing that I could do this all day. That was at the West end of Chris­sy Field though, and I could see that the course was about to head into hills. That's fine though. The hills in the Pre­sidio are fair­ly gen­tle. The steep­est incline we faced was downhill.
There is a lot of con­struc­tion going on in the Pre­sidio, so the race route has changed and the Pre­sidio is not as scenic as usu­al. Even­tu­al­ly we found our way up to the South end of the Gold­en Gate Bridge. Behind me, a car tried to get in to the park­ing lot the usu­al way and the police offi­cer who kept the course safe yelled some­thing about, «what the hell do you think the orange cones are for?» Yeah, note to self: when dri­ving, look for orange cones and don't try dri­ving into a crowd of run­ners. At least not when there's a cop watching.
I tried to get pho­tos of the Bridge while run­ning but after a half dozen attempts gave up. Stu­pid Android.
More con­struc­tion on the Bridge meant fur­ther mod­i­fi­ca­tion to the usu­al race route. The East­ern side­walk is closed, so the race went out across the Bridge and back on the same side. I've bicy­cled on the West­ern side­walk, but I've nev­er been a North­bound pedes­tri­an before. What real­ly impressed me was the Bridge's shad­ow on the water below us. For some rea­son look­ing up at the bridge pro­vides a dif­fer­ent sense of scale. Watch­ing the shad­ow on the water, the shad­ow looked enor­mous in a way that's not visu­al­ly appar­ent when look­ing length­wise down the bridge.
Every­one kept to their side for the most part, but at the North end of the Bridge (6.25 miles in) there was a traf­fic bot­tle­neck that kept us stopped for at least five min­utes. It was enough time for me to actu­al­ly get a pic­ture tak­en of run­ners stand­ing around, tweet my loca­tion and my sta­tus as a non-run­ning run­ner. That took three or four tries so yes, it was a few minutes.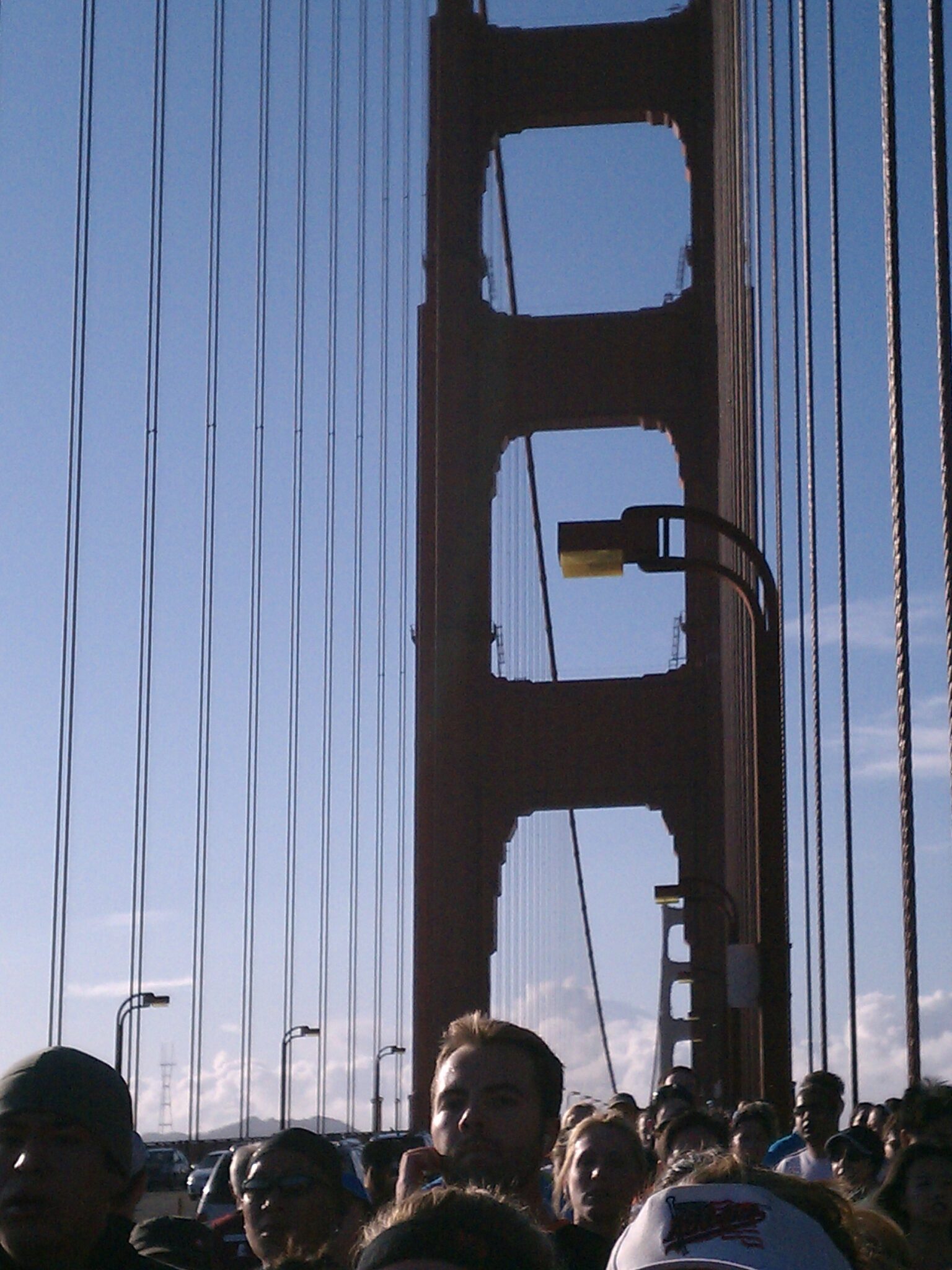 Once the bot­tle­neck was past, the course went up into the Marin Head­lands where the run­ners were treat­ed to an awe­some view of the Bridge and City, then back down, past the bot­tle­neck area (which was much clear­er due to the small num­ber of run­ners slow­er than me) and South across the Bridge.
It was at about eight and a half miles in that I start­ed to lose steam. That was about mid­way across the Bridge on the way back South. I told myself that it was all down­hill from there and that I was two-thirds in, but I was feel­ing the bone-deep hunger that comes from run­ning out of fuel. I told myself that it was only the feel­ing of my body start­ing to burn fat, but main­tain­ing even the slow pace I had been keep­ing became more dif­fi­cult. From then on, walk breaks became more fre­quent and it became tougher to get start­ed run­ning once I'd dropped to a walk.
At ten miles I announced that we'd all done the warmup and that it was time to start run­ning today's 5K race. It was a bit of brava­do but I was going down­hill and could actu­al­ly let myself pick up a lit­tle speed.
At the bot­tom of that hill in addi­tion to the water and Cytomax at the aid sta­tion a woman at the side of the road hand­ed me a choco­late Pow­erGel. I hoped that I'd be able to access the ener­gy and push through. Nonethe­less, I walked through most of Chris­sy Field. It was there that my hip start­ed to hurt.
When I crossed to the Mari­na Green, I decid­ed it was time to run again. I've run the Mari­na Green dozens of times. From there it was all road I know well and I thought it ought to be a breeze. I looked at the time. With about a mile and a half to go I had twen­ty min­utes to make it to the fin­ish line. It seemed doable, but my glutes were com­plain­ing and my left hip real­ly did­n't want to keep going. And then there was the issue of the hill at Fort Mason. It's not a very long hill, but I knew it would slow me down.
I pushed through the dis­com­fort — there were no sharp pains to give me cause for alarm. My body was telling me to stop, but I was­n't actu­al­ly harm­ing myself. I did­n't stop to walk until I reached the bot­tom of the hill. I knew I would­n't run uphill much faster than I'd walk it, and I want­ed what­ev­er I had left to be avail­able for the final stretch to the fin­ish line.
As the hill flat­tened out I start­ed to take delib­er­ate con­trol of my breath and psy­ched myself for that last half mile. Lean­ing for­ward and get­ting off my heels was the last thing I was ready for, but I did it one last time. I came down the East side of the hill at Fort Mason and I could see Aquat­ic Park and all the way across to the fin­ish line. I descend­ed as freely as I could but my glutes and left hip were telling me to stop. As I reached the bot­tom of the hill I heard the fin­ish line announc­er state that there were 30 sec­onds left to get in under three hours. I tried to car­ry as much momen­tum as pos­si­ble as I turned onto Van Ness and poured every­thing I had left into my final «sprint» which was only about a ten to eleven minute mile pace.
Aquat­ic Park does­n't look that big unless it's the last three-tenths of a mile in a half marathon. I've run that side­walk count­less times, but this was the third time I'd run it at the end of a 13.1‑miler. That space stretch­es out and it looks like a very long way to run. Then I gave up lis­ten­ing to my body's com­plaints, shut them out, and put what­ev­er I had left into mov­ing my legs. That was when I broke emo­tion­al­ly. Some­thing changed and it was no longer about hav­ing some­thing to prove but instead about some­thing to learn. I was­n't run­ning to prove that I could fin­ish, I was run­ning to find out whether I could fin­ish. Tears were stream­ing down my face as I got clos­er to the gate. I heard oth­er peo­ple's names being announced as they crossed the line ahead of me. I passed three or four peo­ple in that last three tenths of a mile. I saw my friend who had come to see me fin­ish as she cheered for me. I ran past her and into the chute, and then I heard the announc­er say my name, and I was grat­i­fied that he pro­nounced it right. I crossed through the gate and it was done.
I found that though I was out of fuel, I could­n't eat any­thing for near­ly two hours. I nib­bled what I could but could­n't get down more than a bite every few min­utes. This was the most dif­fi­cult race fin­ish I've ever had. It's cer­tain­ly not the biggest chal­lenge I've faced; I've done two half-marathons before and the olympic dis­tance triathlon I did in 2004 was more demand­ing. But those times I've had more to give. I was in decent con­di­tion and not car­ry­ing so much extra weight. I've nev­er run a race with so great a pos­si­bil­i­ty that I might not fin­ish. I believed I could, but I was a long way from know­ing that I could.
Today's fin­ish is also sig­nif­i­cant in that it strips me of excus­es. I don't have to care­ful­ly «train up» to six or sev­en mile runs. It's not a license for reck­less­ness, but it is a reminder that I am capa­ble of fin­ish­ing what I start. I could do it bet­ter, less painful­ly, faster, and look bet­ter doing it if I train and con­di­tion, but I don't have pre­req­ui­sites attached to push­ing the lim­its of my endurance.
It's said that lawyers should nev­er ask ques­tions in court unless they already know the answers. In life out­side the court­room and espe­cial­ly in regard to explor­ing our own capa­bil­i­ties, we ought always ask ques­tions for which we don't have an answer.